The bright orange Bitcoin (BTC) logo has been synonymous with financial freedom for over 10 years and has become the counterpart of the modern recession and strict government supervision. In contrast to the mystery surrounding the origin of Bitcoin, the evolution of the Bitcoin logo is fairly well documented.
When Bitcoin was released 13 years ago by its creator Satoshi Nakamoto, the first Bitcoin logo was a gold coin with only "BC" in the middle.
However, on February 24, 2010, Nakamoto developed a new Bitcoin logo, in which the "BC" was replaced by its own form of the letter B in the gold coin.

Satoshi Nakamoto's second Bitcoin logo. Source: bitcointalk.org
With the help of feedback from the community, Satoshi then incorporated changes into the new logo and put the images online without copyright. The logo was then accepted as the official logo for Bitcoin for a short time.

Changes to the design of the logo. Source: bitcointalk.org
Since the Bitcoin ecosystem is decentralized, the public can contribute to the Bitcoin network in various ways. Logo design is also a community decision. On November 1, 2010, Bitcoin community member bitboy (not to be confused with YouTuber BitBoy Crypto) posted a new version of the Bitcoin logo based on Satoshi's design. However, this time the designer has replaced the gold coin with the iconic orange circle and placed the special B a few degrees more obliquely.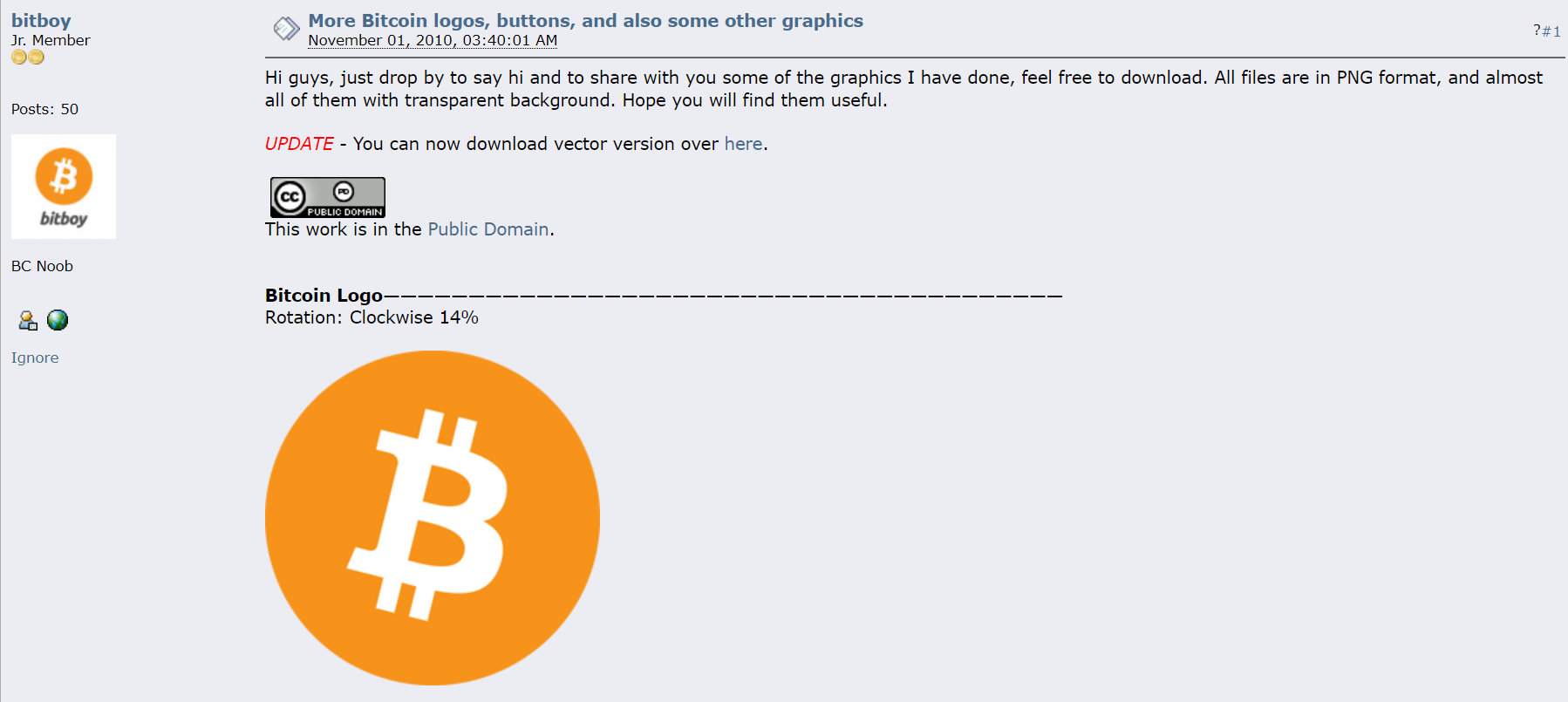 bitboy's design, the official Bitcoin logo. Source: bitcointalk.org
Since the community was enthusiastic about it, the design of bitboy has now been the official logo for Bitcoin for twelve years. After the release of the final version of the Bitcoin logo, bitboy explained:
"With this license, everyone can now use this image for commercial purposes freely and without any restrictions."
Enthusiasts are still releasing new logos for Bitcoin today, but the BTC community has never been so enthusiastic about any other symbol.
Log in to our social media so as not to miss anything: Twitter and Telegram – current news, analyses, expert opinions and interviews with a focus on the DACH region.