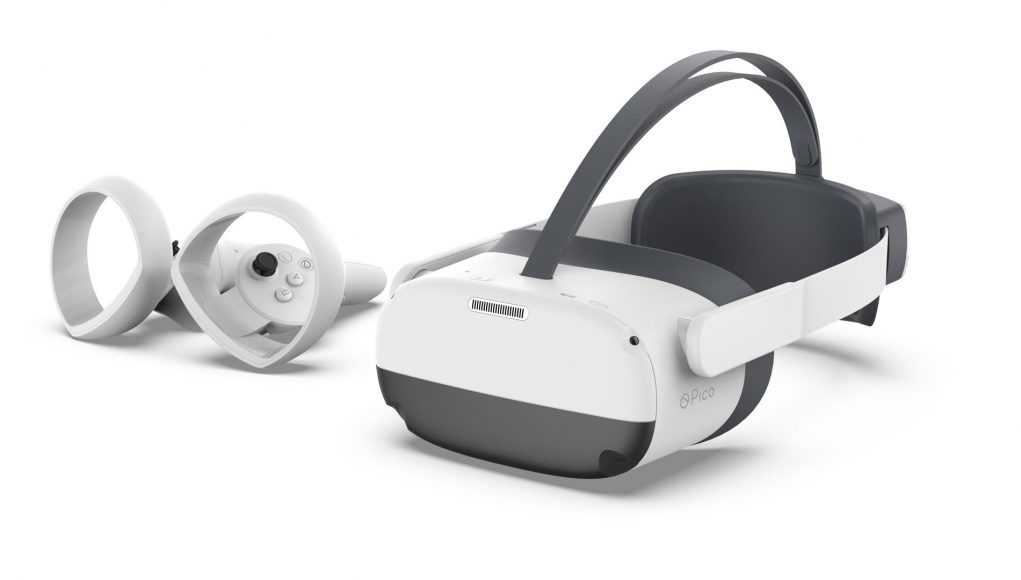 The Chinese manufacturer of virtual reality glasses Pico Interactive begins deliveries of its new autonomous flagship glasses Neo 3 Pro and Neo 3 Pro Eye.
In March 2021 Pico announced for the first time two new autonomous VR glasses Neo 3 Pro and Neo 3 Pro Eye. The Qualcomm XR2 processor performs calculations in standalone devices. The 5.5-inch (about 14 cm) TFT display offers a resolution of 3664 by 1920 pixels, a pixel density of 773 PPI at 90 Hz and a field of view of almost 100 degrees.
The biggest improvement over previous models is likely to be controller tracking: instead of using magnetic fields, Pico now tracks VR controllers through four front-mounted cameras using computer vision, like the Oculus Quest 2.
The cameras also track movements in the room and, if necessary, display a digital protective line ("Guardian System") so that people wearing VR glasses do not collide with the nearest wall. You can see all the technical data of Pico Neo 3 Pro compared to the previous model in the table below.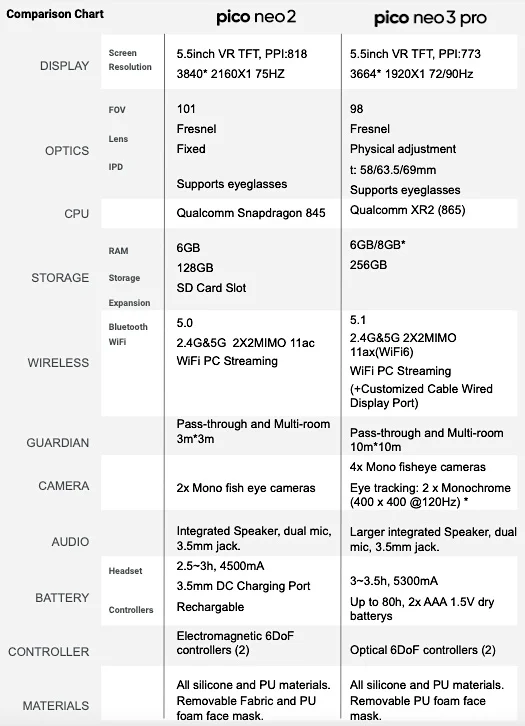 Features of the older Pico Neo 2 and the new Pico Neo 3 Pro. Neo 3 Pro Eye also offers a gaze tracking module
Pico was recently bought by ByteDance, which works very successfully with TikTok. The VR glasses manufacturer should be able to continue working normally. Bytedance is optimistic about the future of VR, the company said in a comment about the takeover.
Neo 3 Pro: Additional eye and hand tracking
Unlike the standard model, the Neo 3 Pro Eye has a gaze tracking module installed. The manufacturer of the module is the Swedish eye tracking specialist Tobii, who is engaged in data protection during eye tracking.
Thanks to foveal rendering, in which only a part of the image is rendered with all the details directly in the field of view, the Neo 3 Pro Eye should provide an image refresh rate that is 78 percent higher. At the same time, the load on the battery will be reduced by ten percent.
For rendering, Pico uses the Tobiis Spotlight rendering process, which is demonstrated in the following video using HP Reverb G2.
In addition to foveal rendering, gaze tracking can be used to assess the viewing direction, for example, during virtual reality training, or users can intuitively control applications by looking at them. Many other application scenarios are possible.
According to Pico, the new VR glasses offer "the best hand tracking in the world," but not as a standard feature like in Oculus Quest 2. For hand tracking, Pico instead relies on Ultraleap technology (formerly called Leap Motion), which specializes in hand tracking and tactile sensations. The IR 170 stereo camera module with Gemini software is used, which must be purchased additionally and installed on VR glasses.
Neo 3 Pro and Neo 3 Pro Eye are already on sale
The cost of the Neo 3 Pro is 600 euros, and the Neo 3 Pro Eye is 750 euros. VR glasses are designed primarily for companies and professional users. Offers are available through Pico Sales department.
However, Pico also promises end users a fairly complete app store: currently there should be 30 apps available in the Pico Store, and by the end of October there should be more than 100. Currently, VR applications known from other platforms are available, such as Superhot VR, Angry Birds VR : Isle of Pigs, OhShape, Sairento VR: Untethered, Apex Construct and Racket: Nx.
It should be easy for developers to port their own VR apps to the Neo 3 Pro. In addition, American Pico Studios are helping to introduce well-known VR games into the Pico ecosystem and to China, where Oculus Quest is not available. In addition, the Neo Pro 3 glasses support virtual reality streaming to a PC via Wi-Fi 6 and Nvidia Cloud XR or via a Displayport cable.