The US bans Tornado Cash, the most popular mixer in the crypto space. It is a controversial decision – with far-reaching consequences. The CEO of Circle, one of the most popular stablecoins, calls it a "turning point in Internet history". Dylan LeClair, senior analyst at Bitcoin magazine, is even more drastic. On Twitter, he comments: "The war on privacy begins now." The decision of the US authorities raises many questions – and highlights a growing conflict between state regulators and parts of the crypto community.
US TREASURY SANCTIONS TORNADO CASH

The US Treasury announced this morning that it has sanctioned the use of the non-custodial Ethereum mixer through the blacklisting of various addresses.

Even if you just hold bitcoin, pay attention. The war on privacy is just beginning.

– Dylan LeClair 🟠 (@DylanLeClair_) August 8, 2022
Tornado Cash is a so-called mixer. Officially, they are for privacy. Users can send their cryptocurrencies to a pool. He mixes them and sends them back to the respective or other address at random, minus a small fee. In the best case, the origin of the money flowed can no longer be traced. Tornado Cash is the most popular platform of its kind.
The OFAC, an arm of the US Treasury Department, announced on Monday evening, August 8, 2022: it puts the protocol on its blacklist, along with all crypto addresses associated with it. U.S. citizens face criminal prosecution for use.
The reason: Tornado Cash is mainly used by criminals for money laundering, especially Russian and North Korean hackers. I refused to cooperate. According to OFAC, it has been over seven billion US dollars since the platform was founded in 2019. US Secretary of State Anthony Blinken added: "We will act aggressively against all mixers who "wash virtual currencies for criminals".
Sanctions from companies quickly followed
The announcement immediately set in motion a cascade of escalating measures. Stablecoin Circle froze all USDC that interacted with Tornado Cash. Blockchain network providers Alchemy and Infura and the largest US crypto exchange are blocking the protocol. And the largest developer platform Github even deleted the accounts of several Tornado Cash programmers, including the founder, Roman Semenov. He replied on Twitter with the question: "Is it now illegal to write open code software?"
My @GitHub account was just suspended 🤷

Is writing an open source code illegal now?

– Roman Semenov 🌪️️ (@semenov_roman_) August 8, 2022
According to crypto experts Jerry Brito and Peter Van Valkenburg, the US Treasury is entering new ground with the decision. For the first time, it is not a person or institution that is being sanctioned, but a smart contract, so that a piece of software – basically a "robot": "All Americans who want to use this automated instrument to protect their privacy in online transactions will have their freedom curtailed without receiving a proper procedure."
How Cybercriminals Use Mixers like Tornado Cash
It cannot be dismissed out of hand: Mixers have become the number one contact point in crypto for money laundering by cybercriminals in 2022. This is evidenced by figures from the data service provider Chainalysis. Thus, with the total volume on the platform, the number of addresses involved in illegal activities also doubled. They now account for almost a quarter of the total.
Source: Chainalysis
The majority of these money laundering activities go to the account of the notorious North Korean hacker group Lazarus, which steals over a billion US dollars annually with its robberies. The money will go directly to Kim Jong Un's nuclear weapons program. Lazarus used Tornado to launder money after some of the most sensational crypto heists of the year, such as the $615 million hack on "Axie Infinity", the largest DeFi theft in history.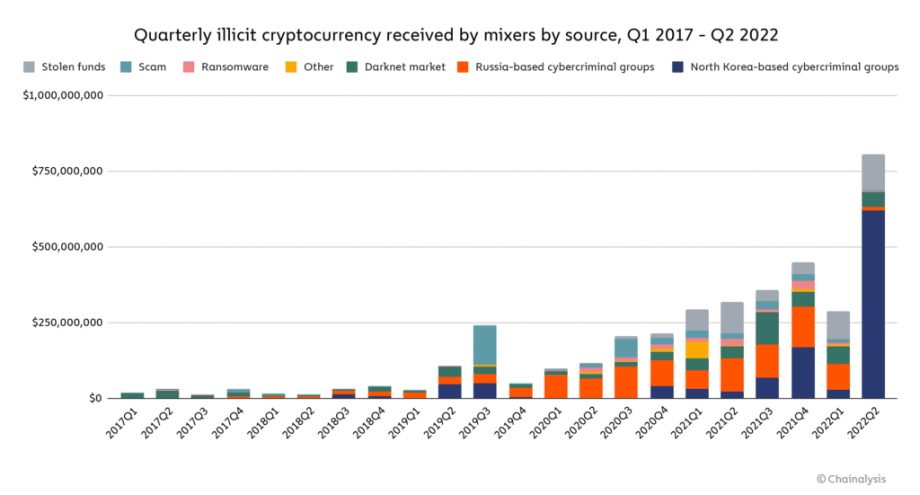 Source: Chainalysis
However, obvious false reports by the US authorities also cause outrage and ridicule in the crypto space. With seven billion US dollars, OFAC simply declared all transactions ever made on Tornado Cash as illegal. According to blockchain analytics company Elliptic, it's $1.5 billion that goes back to cybercriminals. Foreign Minister Anthony Blinken claimed in a tweet that Tornado Cash was operated by Lazarus himself. He later deleted it.
In addition, the platform cooperated with the authorities in May 2022 and blacklisted known illegal addresses. "Maintaining financial privacy is important to preserve our freedom, but it should not go hand in hand with breaking laws," the Tornado Cash team explained. And received a lot of criticism.
Financial Privacy through Mixer
But most importantly, the US authorities overlook the fact that mixers perform an important function in the blockchain ecosystem. Normally, all transactions are visible to everyone. "The protection of financial privacy is important, especially for people who live under repressive governments or who for other reasons need the ability to conduct legal transactions anonymously," Chainalysis writes in his study to Mixers. The Russian-Canadian Ethereum founder Vitalik Buterin also explained that he had used Tornado Cash – in his millions of donations to Ukraine. "My intention was to protect the recipients, not myself. The Russian government knows my positions on the Ukraine issue anyway."
My intention was protecting the recipients, not myself. The RU government knows my positions on the Ukraine issue anyway:https://t.co/nkgrqVY2au

– vitalik.eth (@VitalikButerin) August 9, 2022
After the decision was announced, a DeFi developer with the Twitter handle "Foobar" referred to an old tweet from March 2022, which sums up the tornado cash prohibition dilemma: "Crypto is currently at a crossroads. Either it is moving towards a global CBDC panopticon with stricter monitoring and censorship than the current financial system. Or we get a truly private financial system in which users can opt for different levels of sharing transaction data."
Crypto sits at a bifurcation point, where it can either turn towards a global CBDC panopticon with *stricter* surveillance &censorship than the current financial regime, or a truly private financial system where users can opt into sharing various levels of transaction info.

– foobar (@0xfoobar) March 11, 2022
"EU citizens are not affected by the US sanctions," tweeted crypto advisor Patrik Hansen. "But mixers are seen as high-risk transactions within the framework of the upcoming EU regulation. It becomes difficult to process them, requires justification and must be reported to the financial supervisory authority."
You want to buy cryptocurrencies?
eToro offers investors, from beginners to experts, a comprehensive crypto trading experience on a powerful yet user-friendly platform. We have taken a close look at eToro.